Welcome to Dead Or Alive 2 slot review – a world of outrageous adventure and furious shooting! This slot machine from NetEnt will take you to the Wild West, where you can feel the atmosphere of real cowboys and their battles with the law. Dead or Alive 2 is a sequel to the popular original, but offers even more action, high-quality graphics and exciting bonus features.
The visuals of the Dead Or Alive 2 slot are simply stunning. You'll find yourself in a typical Wild West town, with cliffs, desert plains and street name plate lights in the background. Slot symbols include classic cowboy items such as hats, guns, boots and playing card icons. Colorful and detailed graphics bring the atmosphere of the West right to your screen.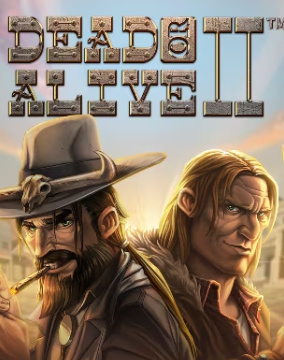 Dead Or Alive 2 slot online has exciting game mechanics that include five reels and nine paylines. The aim of the game is to match symbols on the active lines in order to get winning combinations. The real action, however, starts in the bonus rounds, which include three separate free spins features, each with its unique characteristics and the possibility of substantial payouts. Prepare to take part in the cruel fight against criminals and get great prizes in the Dead Or Alive 2 slot online!
Slot mechanics
The Dead Or Alive 2 slot machine mechanics provide fun gaming with lots of winning potential. You must match symbols on the slot's five reels and nine paylines to create winning combos. To tailor your gaming strategy to your preferences, you may select your stake size and the number of active lines.
The Dead Or Alive 2 slot machine features a variety of symbols that have different values and influence winnings. The high paying symbols are represented by cowboys and cowgirls, each with a unique design and style. In addition, the slot offers special symbols such as scatter symbols (Scatter) and wild symbols (Wild) that help activate bonus features and increase your chances of winning.
The greatest excitement comes with the bonus rounds that put a twist on the game. You get to trigger free spins where you can select from three unique features: Old Saloon, High Noon Saloon, and Train Heist. Every feature comes with its own benefits like added wild symbols, multipliers for your winnings, or more free spins. The bonus rounds are designed to heighten your experience and give you more opportunities to win big.
Overall, the mechanics of the Dead Or Alive 2 slot game offer you an immersive gaming experience with great graphics, a variety of symbols and interesting bonus features. All this creates a Wild West atmosphere and gives you a chance to experience the spirit of adventure and excitement with every spin of the reels.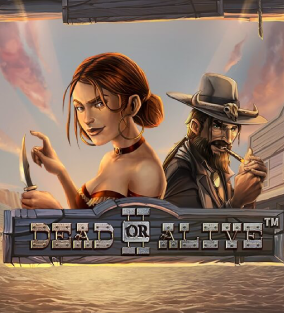 Slot RTP
Dead Or Alive 2 slot RTP is approximately 96.8%. This means that in the long run, from each player's bet about 96.8% will return in the form of winnings. However, you should keep in mind that RTP is a theoretical value calculated on the basis of a lot of games and a long time period. In the short term, results can vary significantly and depend on luck and the randomness of the game. Nevertheless, a high RTP percentage makes Dead or Alive 2 slot attractive to players, as they can expect to get most of their bets back in the form of winnings over a long period of time.
Bonus Features
Dead or Alive 2 is famous for its exciting bonus features that can bring you big winnings. One of the features is the free spins feature, which is activated when three or more Scatter symbols are found on the reels. You can choose from three different free spins rounds: Old Saloon, High Noon Saloon and Train Heist. Each has its own unique features and potential for Dead Or Alive 2 slot big win.
Moreover, the Dead or Alive 2 slot game is equipped with wild symbols that act as substitutes for symbols to form successful combinations. In the event that multiple Wild symbols appear on a particular payline, it can result in enormous rewards.
Dead or Alive 2 is also known for its potential for big winnings. With a variety of features, high variability and high multipliers, the slot offers the opportunity for significant winnings. By collecting a combination of the most valuable symbols during the bonus features, you can see your winnings multiply.
So, Dead Or Alive 2 slot bonus and the potential for big winnings make the slot attractive to players looking for exciting gameplay and the opportunity to win significant amounts. All this combined with its exciting Wild West theme creates an unforgettable gaming experience for all gamblers.
How to play for free in demo mode
To Dead Or Alive 2 slot free play, you need to follow a few simple steps. Begin by searching for an online betting platform featuring a demo version of the slot. Numerous gambling websites offer free sessions to help players become more acquainted with the game mechanics before putting actual money on the line.
After choosing the appropriate casino, find Dead or Alive 2 slot in their gaming library. It will usually be under Slots or Slot Machines. Click on the slot and select the 'Demo' or 'Free' option to start playing in free play mode.
When the game screen loads, you will see a virtual balance that you can use to place bets in demo mode. Choose your bet size, click on the spin button and enjoy the game without the risk of losing any real money. In the Dead Or Alive 2 slot demo, you can experience all the features and bonus features, so feel free to experiment and explore the game.
Keep in mind that prizes and monies earned while playing in demo mode are fictitious and cannot be paid out. It is only a means to practice and become accustomed to the game before risking real money. If you choose to play for real money, change the game mode to real money and create an account at the casino of your choice.
Tips for playing Dead Or Alive 2 slot
Here are some tips to help you play Dead Or Alive 2 slot:
Manage your budget: Determine your budget for the game and stick to it. Set your wager limits and don't go over them to avoid unnecessary losses.
Use the Demo Mode: If you are new to the game, or if you want to familiarize yourself with the mechanics and mechanics of a slot, try using the Demo Mode. This will allow you to get familiar with the game without risk and develop your strategy.
Use bonuses and promotions: Numerous online casinos provide a range of bonuses and incentives that may be applied to slot machine play. Check to see if there are any benefits, like free spins or additional money in your account, for playing Dead or Alive 2.
Play wisely: Split your playing time between multiple sessions, so you don't get too tired and lose your sense of control. Set limits for yourself, both in terms of time and stakes, and stick to them.
By following these Dead Or Alive 2 slot tips, you can improve your gaming experience and increase your chances of success. Remember that playing should be fun and entertaining, so enjoy the process and play responsibly.